Introduction to the Employee Management System
Managing employees can be a challenging task, especially when you have to keep track of their schedules, attendance, and performance. Fortunately, with the advent of technology, employee management has become easier and more efficient than ever before.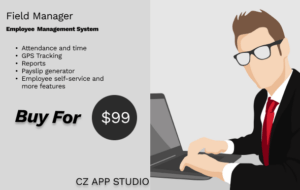 Here are some of the benefits of using an employee management app:
Time and Attendance Management: The most important aspect of employee management is keeping track of their time and attendance. Using this employee management app, you can easily monitor the time and attendance of your employees. you can monitor that they are working as scheduled.
Performance Monitoring: Employee management apps can also help you monitor the performance of your employees. You can set goals and track progress. Monitoring helps you to improve employees' job performance as well as methods and techniques of measuring.
Communication: Employee management apps provide a platform for seamless communication between managers and employees. You can send messages, and notifications, and even hold virtual meetings through the app.
Employee Self-Service: An employee management app can also provide a self-service portal for your employees. They can view their schedules, and request leave. Employees can also request for their food,travel expenses and access important information about their benefits and pay. There's no need of waiting for a payslip, they can easily download the payslip month-wise from the app.
Reports: You can generate and download the monthly attendance, timeline, and sales report in Excel format. By using this report generation you can easily monitor your company thing and also easy to prepare your annual report.
Live Tracking: You can track your employee using this app. The real-time employee tracking provides you with a detailed description of the total time spent while working including office hours, active hours, idle hours, offline hours, and overall productivity percentage.
Conclusion:
                Software for employee management systems helps your organization to improve workforce productivity and boost overall well–being by tracking and monitoring the daily working activities of every employee. An employee management app can be a game-changer for businesses of all sizes.